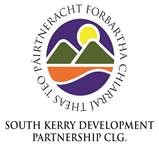 Rural Men's Walk
A group of 20 retired rural men living around the south kerry area will come to Waterville for a gathering. We will have a small walk around the beach in Waterville followed by lunch in the Villa Maria. We will then have a guest speaker to talk to the group on the topic of mental health & wellbeing.
Event Details:
Date & time:
13 Oct @ 11:00 - 13:00
Venue:
Villa Maria Hotel, Waterville
Organiser:
South Kerry Development partnership
This event is best suited for:
Please note this is a private event that is not open to the public.